17 Jul
This blog post will hopefully cover why it's important for you to register for an account on ColdstreamKit. If we could only say one thing to you, it would be 'FREE STUFF', yep – that's right, FREE! We'll cover this in greater details below, but remember, the 'FREE STUFF' we mean relates to people that have created an account on ColdstreamKit.
THE NEW WEBSITE:

The new and improved website has been many months in the making. We looked at a few options but our overall aim was to make it 'user-friendly' plus be able to function on 'various' platforms with no issue, from a desktop Computer to a Smart Phone.
We have a few cool features on the new website, which we think adds to the user experience, these are things like Bonus Points, The Blog, The New Accounts Panel, Overall Speed ............ plus much more.
BONUS POINTS:

Bonus points are really cool and the best thing is, you don't have to do anything and you get stuff FOR FREE!
How these work are that when you make an order, you get bonus points. You can then save those points and cash in for a voucher to spend on ColdstreamKit. The more points you have, the better bargain you'll have when 'cashing them in'.
There's more here about Bonus Points but the IMPORTANT THING to remember is that you CAN ONLY HAVE BONUS POINTS if you have REGISTERED for an account, guest check-outs are allowed on ColdstreamKit but by doing so, we don't have any account to attach bonus points to.
We'll also have certain items from time to time that will have DOUBLE BONUS POINTS, plus little competitions with BONUS POINTS as PRIZES ................. all great, if you have an account.
THE NEW PRODUCT LAYOUT:

Products are shown a little differently that on our previous website.
Everything is pretty self-explanatory, each product offers different options etc, but you will also have the option to ask a SPECIFIC QUESTION related to THAT PRODUCT by clicking on the Red Question mark. An example of this could be, if the item is currently out of stock, can you be informed when it comes back in, or can you have that design on a sweatshirt etc.
You can also click the 'COMPARE' button if you want to look at a few items on screen together.
THE BLOG:
The Blog is a little corner of ColdstreamKit where we upload articles for information, such as new designs, new ideas, fun trivia, etc etc etc.
A quick look at just a few random articles in the blog are:
The United Colours of Guards Wear.
.................... plus much, much more!
THE NEWSLETTER (and the benefits from subscribing to it):

No one likes 'Junk e-mails', and our Newsletter IS NOT something that we would class as 'Junk'.
Let's be honest though, we are fully aware that it's a marketing tool, and we know that marketing tools are meant to showcase products to try and turn those into sales, BUT, we are going to use our Newsletter a little different.
By subscribing to our Newsletter we will occasionally send out a private competition for FREE PRODUCTS with a private link to enter. No purchase will be necessary to enter these competitions and it will just be a little thank you to any subscribers that receive the newsletter.
You'll also be informed of:
Any limited edition products that may be on sale, giving you the first chance to purchase them.
Brand new products that are available, you'll know before anyone else.
Fresh designs that have been created, giving you the chance to purchase before anyone else.
Plus other stuff we know you'll love to hear about.
So, there are certainly GREAT BENEFITS is subscribing to the Newsletter.
THE NEW ACCOUNTS PANEL:

When you create an account you'll have access to the brand-new accounts panel, your accounts panel.
With this, you'll be able to keep track of your orders, create wish lists of things that you may want in the future, compare products and keep track of your bonus points (amongst many other things).
IT'S IMPORTANT that you use this area to check on any status changes to your order(s) because we want to cut down on the email updates to you when your order status changes (by popular request).
You'll get 3 emails regarding an order, first you will get the order confirmation once you've placed the order. You'll then get the 'Order being processed' email, which is basically telling you that we are looking into your order. Finally, you'll get the 'Shipped' email, which informs you that your order has been completed and is on its way to you, any other updates will be accessed through your control panel.
WEBSITE FUNCTIONING (on desktops and smartphones):

ColdstreamKit has been configured to run on all devices but there may be some slight changes when comparing what you see.
The important things are all the same but one thing that will look a little different is the Navigation Menu (the links to various pages).
On devices with larger screens such as Desktop PC's, Lap Tops and the larger Tablets, you will see the blue navigation bar at the top of the screen.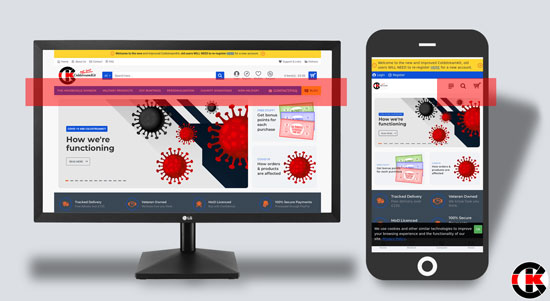 For smaller smart phones you won't have the blue navigation bar, you'll have the navigation bar tucked into a pull-out area that pops up when you click on the 'Bars'. These are located next to the magnifying (search) glass at the top of the screen. Clicking there will give you the menu to navigate the site.
CONCLUSION:

We haven't covered everything here, there's just too much that has changed!
That said, we have covered a couple of the important points so have a look around, click some buttons and if you need to get in touch, just drop us a message vie the contact page.
Oh, and just to let you know, we still give 10% back from EVERY SALE on ColdstreamKit, more details on that can be found here.